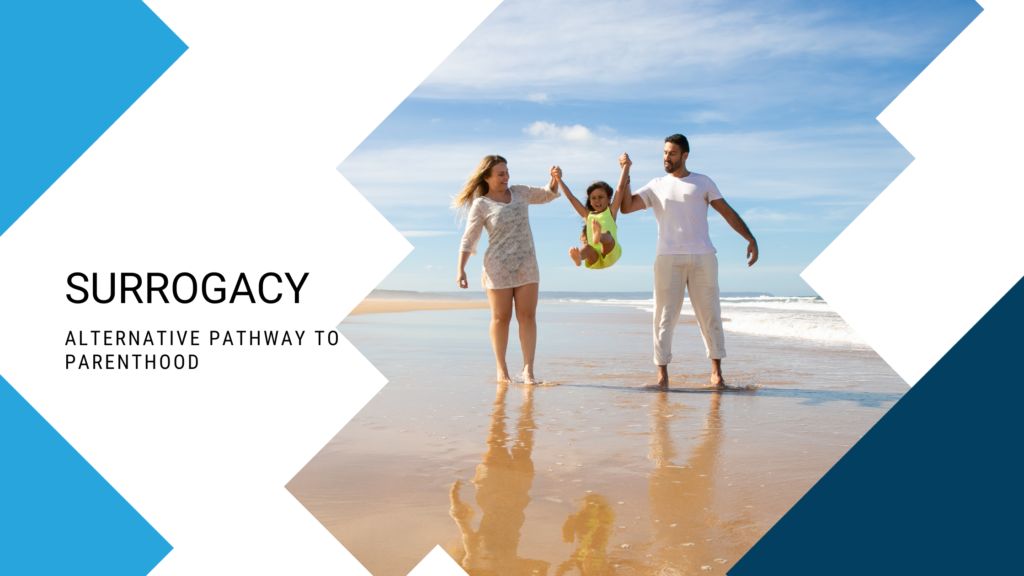 Each parenthood journey is valid, and surrogacy is simply another way to help individuals and couples create the family they want. We work hard to help you achieve your dream of a family and raising a child.
What is surrogacy?
Surrogacy is a type of fertility treatment where a woman agrees to become pregnant, carries the pregnancy to term, and gives birth to a baby for another person who will ultimately become the parent of the child.
As a serious agreement, surrogacy aims to ensure a normal pregnancy, safe delivery, and a healthy baby.
For the process to be successful, the AtlasCARE IVF team provides medical, logistic, and legal expertise, as well as support throughout the entire journey — from beginning to end.
What are the types of surrogacy?
Traditional
In traditional surrogacy, the surrogate's egg is used to create the embryo she is going to carry. This type of surrogacy is illegal in Georgia.
Gestational
At AtlasCARE IVF, we offer only gestational surrogacy. Embryos are created using your own (or donor) eggs and sperm. One or more embryos are then transferred to the uterus of the surrogate mother (also known as a gestational carrier).
What are the surrogacy laws in Georgia?
Georgia allows only surrogacy arrangements where the resulting child/children is/are not genetically related to the surrogate.
For surrogacy treatment to be carried out, there should be a biological connection between the intended parent and the child. This means that at least one of the intended parents should be biologically related to the child.
In addition, only one donor can be used at a time. If you are considering using an egg donor, then sperm must be provided by your partner, and vice versa, if you use a sperm donor then you should supply eggs for fertilization.
Why would a woman want to become a surrogate mother?
Our loving surrogates are ready to create a unique connection with you and help you reach your goal of building a family.
These extraordinary, selfless women incorporate compassionate for others who are wishing and hoping for a baby.
Our surrogate mothers have endured pleasurable, uncomplicated pregnancies, and this arrangement allows for them to stay home with their children and ultimately contribute financially to their own family.
Our surrogates make a bold statement, demonstrating that irrespective of race, religion, or one's lifestyle sacrifice is an everlasting gift.
Who should use gestational surrogacy?
We recommend surrogacy when pregnancy is medically impossible or when pregnancy can cause serious health problems to the mother/child.
This treatment is a viable option for those who have tried but could not get pregnant after several cycles of IVF or other assisted reproductive treatment. You may also consider surrogacy as an alternative pathway to becoming parents because of personal reasons.
Indications for surrogacy include:
Absence of uterus
Uterine disorders (such as scarrings and fibroids)
Serious heart or kidney disorders that can make a pregnancy high risk
Surgical removal of all or parts of the uterus (hysterectomy)
Recurrent miscarriage
Male same-sex couples
How can we build a family with surrogacy Georgia?
Surrogacy is a physically and emotionally demanding process that involves careful evaluation by a fertility clinic, surrogacy professionals, and a dedicated reproductive lawyer to ensure that the arrangement succeeds for both the surrogate mother living in Tbilisi, Georgia, as well as the intended parents.
As the leading fertility clinic in the Republic of Georgia, we have helped countless individuals become parents through surrogacy. Our step by step program includes the initial recruitment and screening of surrogate mothers in Tbilisi. We also perform an extensive medical and psychological screening for each surrogate mother before being accepted into our program.
Surrogacy is achieved by those with the courage to reimagine the imaginable. The surrogate mothers for AtlasCARE defy the challenges of family building and push sacrifice to the limits. This is the spirit that drives our surrogate mothers.
Our experienced journey coordinators are passionate and knowledgeable on the complexities involved with surrogacy, and is available to guide you on your journey. We will make sure you and your surrogate mother are given the most unsurpassed education, guidance and support and monitor your surrogate's medical appointments, living environment, and support sessions.
What surrogacy programs are available at AtlasCARE IVF?
There are several programs available at AtlasCARE, including:
IVF Surrogacy
With IVF surrogacy, the embryo is created by fertilizing the mother's eggs with the father's sperm. The resulting child is genetically related to both parents.
Surrogacy with donor egg
Embryos are created by fertilizing donor eggs with the partner's sperm. In this case, the donor is not the surrogate. An egg donor is selected from the AtlasCARE online database by reviewing donor profiles with donor's photos and information about their test results, ethnicity, profession, etc. The resulting child is genetically related only to the father.
Surrogacy with donor sperm
The embryo is created by combining the mother's egg with donor sperm. The resulting child is genetically related only to the mother.
What are the benefits of Surrogacy in Georgia?
There are a number of benefits some of which include:
Infertile individuals and couples can start/grow a family.
Intended parents can keep the biological connection with the child.
The treatment is extremely successful, as surrogates have a proven record of pregnancy success.
Gestational surrogacy is the least legally complicated form of surrogacy because the baby is not genetically related to the surrogate.
Intended parents are recorded in the birth certificate as the biological parents of the child. The surrogate mother is not mentioned at all.
What to expect from your time in Georgia?
Communication is paramount, and it is important that you are relaxed, stress-free, and fully informed throughout your journey.
Our surrogacy coordinators will be with you and your surrogate every step of the way to answer any questions or concerns you might have as we plan your journey ahead. We will organize your hotel stay, airport transfer, appointments at the clinic, and be supportive and encouraging as your surrogate mother's pregnancy progresses.